Unbranded
Not Available
USER.e0ffc3d1-6579-4176-9388-03dc9f9e9f97
Safe and secure payments. 100% Satisfaction Guaranteed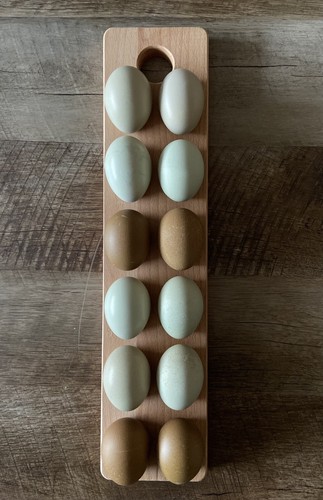 12 Fertile Hatching Eggs from Specialty Bred Olive Egger Flock
About this Item
Location:
Burley, Idaho
Returns:
Not Accepted
Condition:
New
About the Seller
redbasin57
Country/Region of Manufacture : [United States]
Type : [Hatching Egg]
Poultry Type : [Ameraucana]
Brand : [Unbranded]
12 Fertile Hatching Eggs from Specialty Bred Olive Egger Flock.
You are purchasing 12 Hatching Eggs from my Flock of specially breeds bred for beauty, egg color and temperament. I only select the best, prettiest, cleanest eggs. (Although my nests are always clean.) These birds are well cared for, healthy, loved and named.
Hens may include:
Ameraucana (Self Blue and Mottled Black)
Sage Eggers
Moss Eggers
Speckled Olive Eggers
Silverrudd Blue
Green Queen
All will be covered by the best Black Copper Marans Roos. Fertility is checked regularly and Hens are well cared for and prepared for laying the healthiest eggs possible.
Please know genetics are and interesting thing. As you are purchasing mixed breed you will get a variety of genetics. Your Hens may not lay the same color of egg they came from. You will be hatching some F1 Olive Eggers and BC1 and BC2 Eggers. And may have some with a heavier bloom and hopefully pretty speckles.
I am always available to help answer any breeding, hatching or general health questions. Hatching is a fun process that may require a little help if you're new. Please have your incubators cleaned, heated, calibrated and ready. I like to let shipped eggs test pointy side down for 24 hours to acclimate to room temperature and settle air cells. If you have damaged air cells from shipping, eggs may still be successfully hatched by incubating pointy side down. I can walk you through this process.
PLEASE READ BEFORE PURCHASE
I want your hatch to be successful. These are the same eggs I hatch in my own incubators successfully. HOWEVER, shipped eggs are a gamble and come with no guarantee. I will pack them in foam shipping containers and ship USPS Priority on Monday only, to ensure they get to you as quickly as possible. The box will be marked fragile and upon your request can also include a request to call you for Post Office Pickup. That being said, how they are treated once they leave my possession is out of my control. I cannot guarantee hatch rate or reimburse for broken eggs. Any damage claims will need to go through USPS.
Thanks for your trust in my flock, and me as a breeder. Happy Hatching!
-Heidi