Not Available
USER.c9b4cf3c-3ac5-4631-8586-6f3db5ba8869
Safe and secure payments. 100% Satisfaction Guaranteed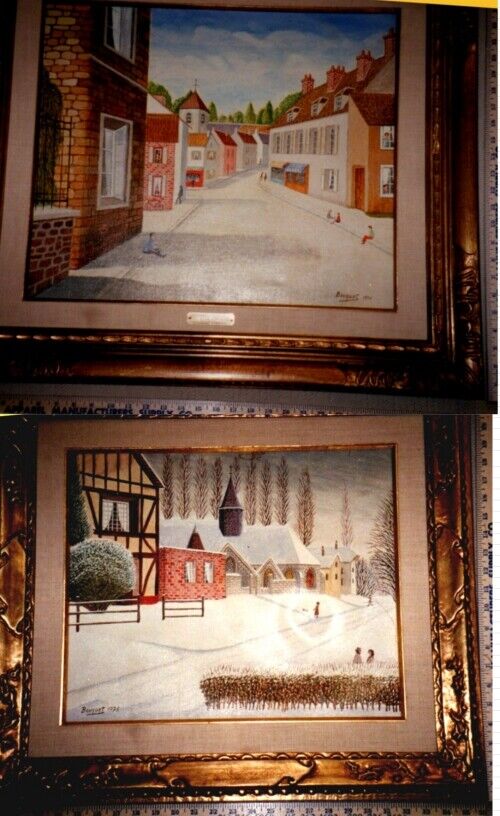 2pcs. Andre Bouquet Winter Scenes 1975 Oil Painting set of two Scenes Framed
About this Item
Location:
Northridge, California
Returns:
Not Accepted
Condition:
New
About the Seller
l.a.products
1-SET of Andre Bouquet Winter Scenes 1975 Original Oil Painting
Set of two Scenes, Framed & Signed. ( sold as is )
Artist:Andre Bouquet (1897-1987) French oil on canvas
André Bouquet was a painter born to La Varenne - Saint -Hilaire, at the end of the XIXth century (1897 September 19th-1987). Its renown exceeds very far from Villeneuve Saint -Georges, a small city of the Parisian suburbs, where he resided a small apartment since 1933 and where he has ended its life in 1987. This city of the MarneValley area, where he has passed the greatest part of its life, has devoted him a cultural building to Carnot avenue: "the space André Bouquet".
In the beginning of his career, painter HEUZE and GOERG, members of the Institute, have encouraged BOUQUET's work, and the painter Georges FOUCAULT has prodigy him his advice. His work were subject to many exhibitions in France and through the world.

The naive paint of André Bouquet has been revealed on the international plan by the German television that has undertaken a reporting on this painter totally misunderstood in its country to this period.
André Bouquet has exposed for the first time in 1943 to Paris street to Villeneuve Saint-Georges in "chez Vivien" a today disappeared cafe. He had to wait eight years to finally do his first personal exhibition to the Institute's gallery, rue de Seine to Paris. From then on , he will expose to the Berri's gallery and to the 93 gallery of the Saint Honnore faubourg also to Paris. He exposed to the Grand Palais too and to the "salon des Indépendants" where he was one of them honor invited. UNESCO by its UNICEF branch ordered to him for their greeting.
The work of this tranquil father of the paint has been compared by eminent criticize such Robert Vrinat to Douanier Rousseau and to Jean Eve. André Bouquet owned an indisputable superiority on a lot naive painters, it knew admirably draw what gives to its work an incomparable graphics. Placement aside his technique acquired by an assiduous work André Bouquet is a real poet. He translates from scenes of all days with a such sensitivity that this scene becomes dream and delights you.
The discreet and timid painter became thus a great fellow by its talent and its work, in the absolute concern to respect what he sees by his eyes or in his dreams. The work of André Bouquet is a work that speaks you.
"Sold as is, no returns"
EXCELLENT QUALITY SHIPS OUT OF LOS ANGELES, CALIFORNIA WITHIN 24 HOURS(99%)