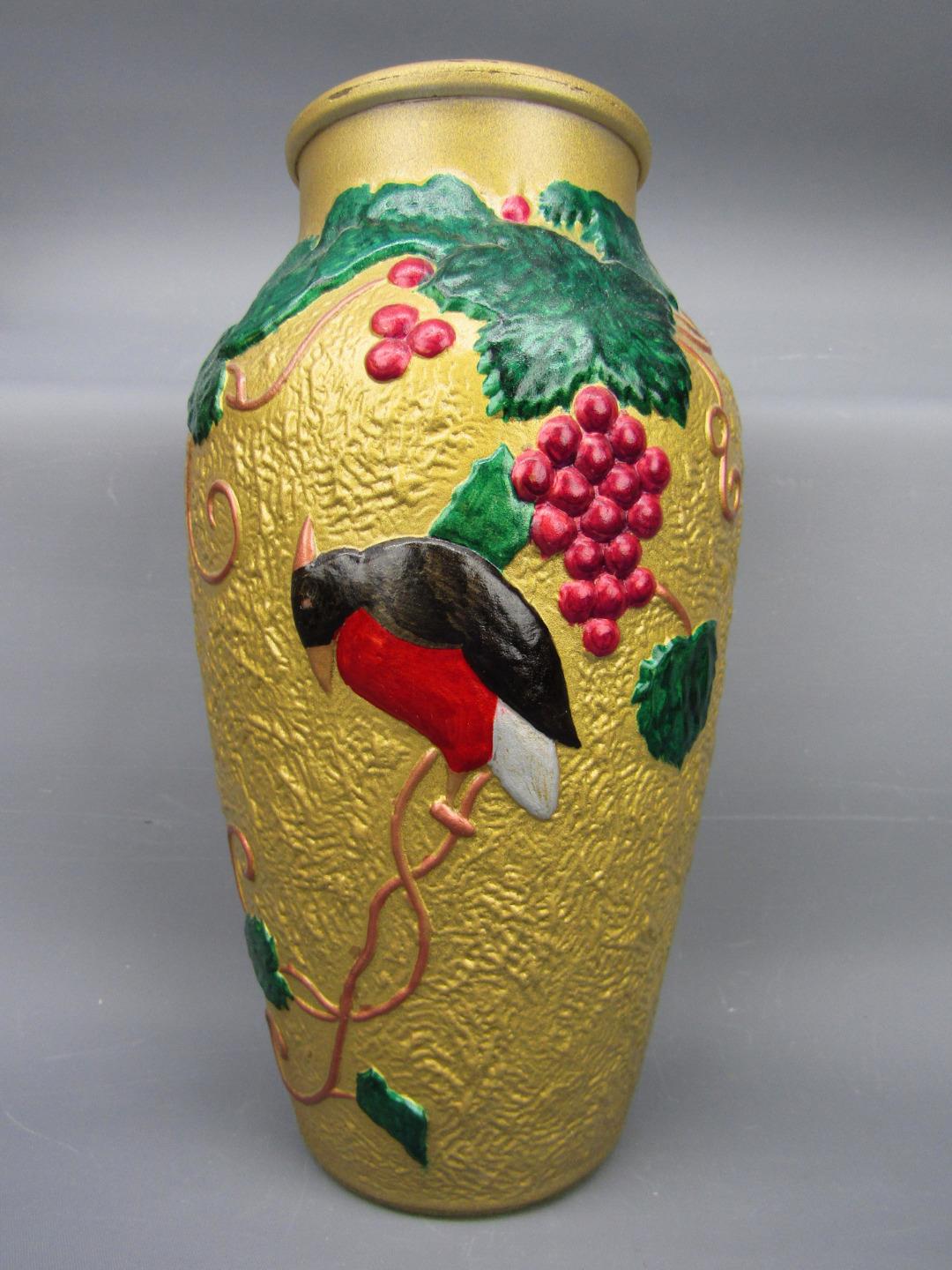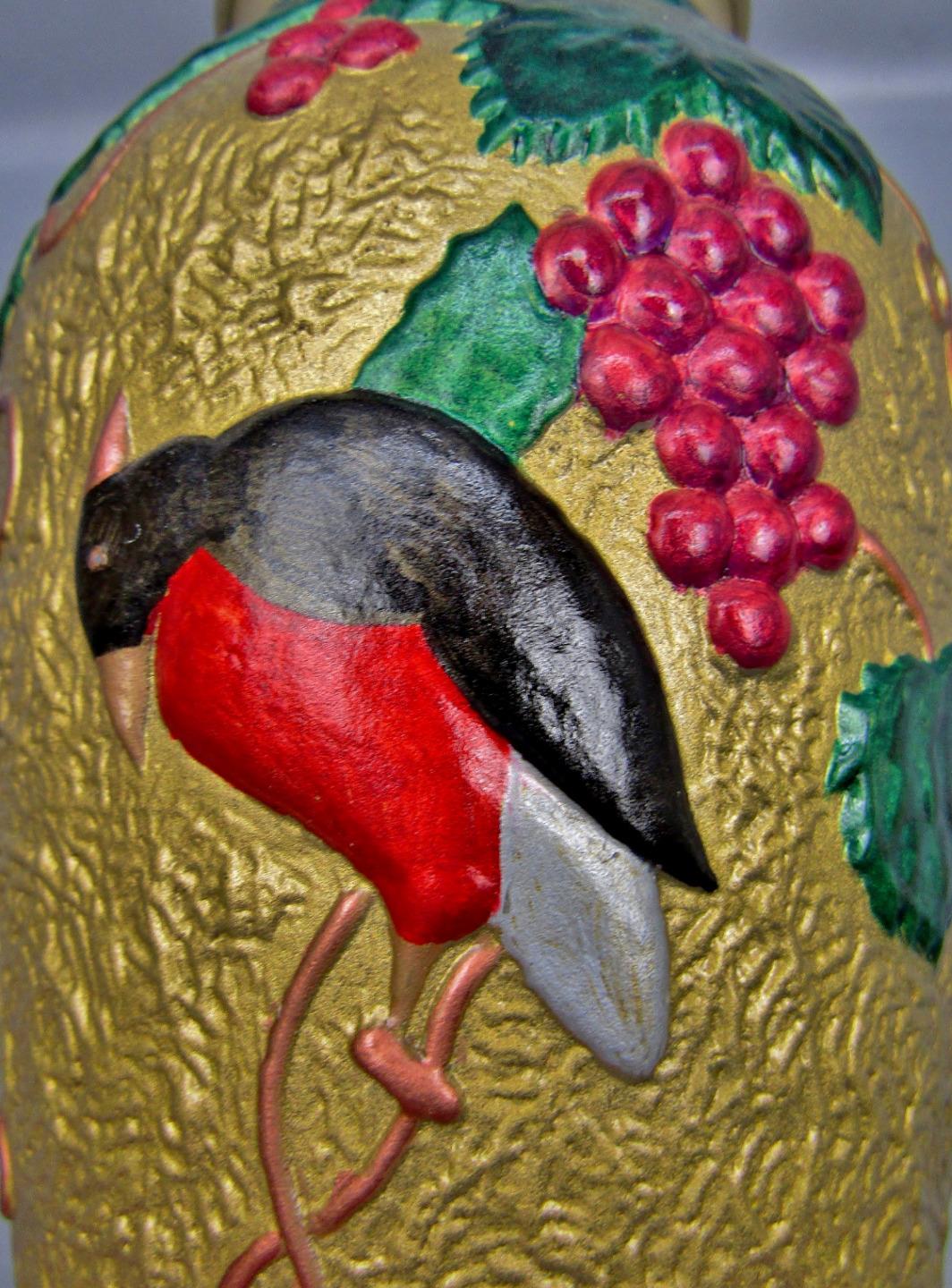 Lovely 9" COCKATOO or BIRD with GRAPES EAPG Vase, Hand-Painted by me in the Goofus Style. Found with none of the original paint, it has been repainted by me to accent the beauty of the underlying design. The Vase is in excellent undamaged antique condition.
I have attributed this vase to Hocking Glass, because there is a Carnival Glass Wall Pocket with this very same design attributed to Hocking Glass by the West Virginia Museum of American Glass.
EAPG is shorthand for Early American Pattern Glass, which is also known simply as 'pattern glass', 'pressed glass', or 'Victorian glass'. It is generally pressed glass tableware sets and novelty items with embossed or intaglio patterns made during the Victorian period circa 1850-1910, by hundreds of glass factories. EAPG includes many different types of glass such as crystal (flint), opalescent, cased and custard. Some Crystal is decorated with Ruby Flash or Ruby Stain; some Custard with Blue or Nutmeg Stain; both may have Gilt trim and/or accents. In the case of 'Goofus' glass, items may be either all-over painted or just pattern-painted. Cased glass may be satinized and/or quilted. EAPG was succeeded by iridized 'Carnival Glass' (1907-1930s), and then in the 1930s and 40s by what is now referred to as 'Depression Glass'.
Goofus Glass is what we now call pressed or mold-blown glass, from the early 1900s, that was cold-painted either in its entirety (all-over decorated) or just on the embossed or intaglio design (pattern decorated). Goofus Glass was originally marketed under fancy names like "Oriental Art" or "Egyptian Art", but when it was found that the paint had a tendency to flake off with handling and washings, the name Goofus arose and stuck.

Original paint indicates that while some touch-up of the backing gold may have occurred, much of the original paint is still on the glass.

OOAK (One of a Kind) means that I have completely repainted a piece from which the original paint had flaked off, or applied paint to a piece that was never decorated. The intricate design created by the mold maker will have been brought to life . These pieces will be clearly identified as such.
Excellent Undamaged Antique Condition
means that while a
listed
item has no post-production damage such as chips or cracks,

it may have discernible minor wear from usage and/or nesting (stacking)

. This wear will be mentioned and/or highlighted with its own photo if over-moderate. In my opinion, there are very, very few pieces of Carnival Glass that don't have an imperfection of some sort, whether from production or use, that can't be found with careful inspection, but that doesn't impact the presentation.

Production conditions in the early 1900s were dirty and dangerous; there was no "Quality Control" as we know it now. Issues resultant from these conditions include:
Air bubbles in the glass that were not squeezed out during pressing.
Heat checks which are internal rifts filled with air (which is why you can see them), usually from a burst air bubble.
Inclusions in or on the surface of the glass, such as ash and cinders. Often found in the flames of vases and rims of bowls were it settled during pressing.
Strands of undissolved colorant (usually in green glass).
Straw marks which are lines

in the glass caused by premature solidification where the molten glass was

snipped from the gathering rod with cool metal shears when the mould was full; lines also formed on the surface during the cooling process.

Tool marks from implements used to form the edge or influence the shape.
Mold issues related to filling and release such as incomplete or malformed edges,

rough seams, extra glass at seams; webbed, incomplete or pulled edge points.

Cooling issues such as

uneven legs, slanted stems or a bowed base (causing rocking), surface lines and heat checks.
Production issues may be undesirable in the extreme, but they do not qualify as "damage" and will be found to some degree on nearly all antique glassware. Issues of wear will be left to your discretion.
Combined Shipping is offered for both domestic and international shipments. PLEASE USE YOUR SHOPPING CART if planning to make multiple purchases, and at checkout click on "ask seller for total". All items are bubble wrapped. No tape is used on the bubble wrap (YAY!). Carton voids are filled with cushioning peanuts. Cartons are labeled GLASS or FRAGILE, and shipped in one business day or, if I'm away, ASAP upon my return.

All shipments are insured. International shipments will travel via USPS Priority Mail International for insurance and tracking purposes. The declared customs value may include the shipping charge depending on your country's import policies.

PLEASE VISIT MY STORE




COME BY, COME BUY, COME BACK
If there is an issue with a purchase, please message me through eBay and I will resolve the issue to your satisfaction.