Unbranded/Generic
Not applicable
USER.c02a2384-0cb2-4204-85e3-8e3830655f44
Does not apply
Returns Accepted
Safe and secure payments. 100% Satisfaction Guaranteed
A500K long pot for Gibson Les Paul guitar tone volume 500K log potentiometer
About this Item
Location:
Worthing, West Sussex
Returns:
Accepted
Condition:
New
About the Seller
jellyfishaudio
MPN : [Not applicable]
Type : [Potentiometer]
Brand : [Unbranded/Generic]
UPC : [Does not apply]
This is a full size (24mm diameter) 500K Ohm Logarithmic (audio taper A500K) potentiometer with split / splined shaft suitable for use in Les Paul guitars and for their many clones, or other guitars with humbucker dual coil pickups with controls designed to be mounted in a wooden body. Should fit all Epiphone Les Paul models except the Elitist.
Note that some genuine Gibson Les Pauls use an internal sub-plate to mount the pots on, and these pots will NOT fit those guitars (which require an extra long 18mm or 3/4" thread on the shaft). It is well worth checking what is inside your guitar before you buy, as Gibson are notorious for using a variety of pot types in the different versions of the Les Paul... including switched pots which should be fairly obvious as they have extra wiring apart from the usual three wires. However, these pots should be suitable for the following Gibson models/Years (we still advise checking!);
Historic R4/R5/R6/R7/R8/R9/R0 (but NOT the Historic '68 Custom reissue)
1952-1977 Standard's
1954-1977 Custom's
1968-1977 Deluxe's
Historic R7 Custom
The Paul's
Les Paul Special's
Les Paul Jr.'s
Our thanks and acknowledgement to the mylespaul.com forums for the above information.

Please note that this pot with an overall 18mm shaft length including the thread is not suitable for mounting on plastic or metal plates such as in a STRAT or Tele, as these require a shorter mounting shaft. Please see our 250K and 500K short 15mm shaft pot listings for suitable potentiometers for guitars with pots mounted on thinner plastic or metal plates.

500K Log Potentiometer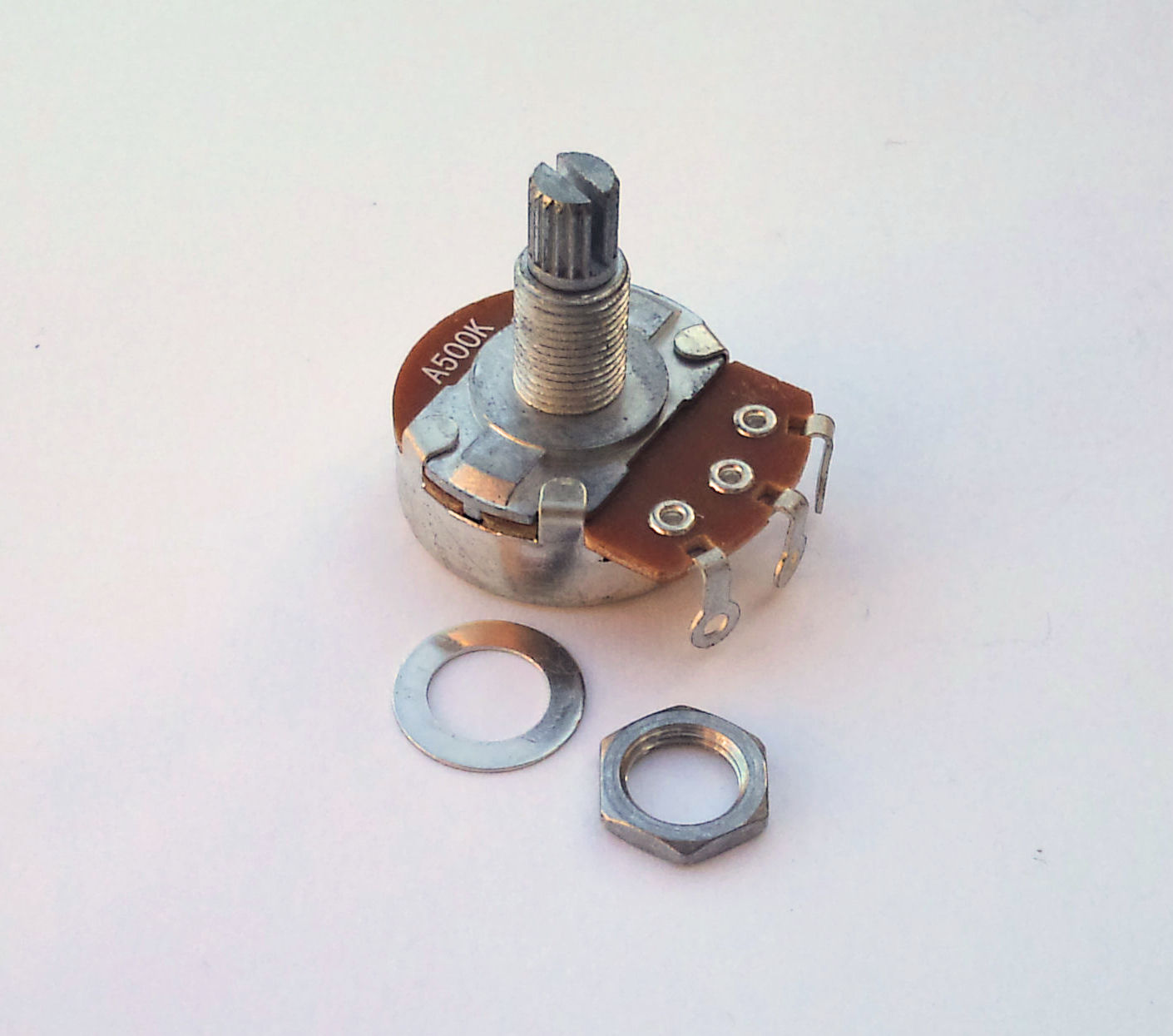 Assembled using the FreeForm Builder at
This is NOT possible if you have already paid for any of the items you are ordering.
If this option is not offered in the listing, please use the following listing to pay the extra cost of this.
Also note that orders sent to Italy may take MUCH longer than eBays estimate to be delivered and, whilst some orders do arrive within a week or two, many orders sent to Italy are not delivered for three or perhaps even four weeks! This is entirely outside our control, as we ship within two working days and once your order is in the hands of Poste Italiane, there is nothing we can do to get it to you any faster.
Please DO NOT send messages with the title "Item not received" as these open complaint cases against us and damage our seller rating! Instead please use the general "Other" heading to ask about your delivery if several weeks have passed.
Lastly, all please note that when eBay asks you "Did the item arrive on or before" their estimated delivery date, it also damages our seller rating if you answer "No", so bear in mind that we always ship within two working days, so if you answer "No" because your local postal service (especially in Italy!) has taken weeks to deliver, you are punishing us, not them!
Thank you all for your kind consideration of the above and remember that we will always do our very best to sort out any problems or questions you may have related to your order if you contact us using the "Contact Seller" and (if the choice is given) "Other" ask a question of seller options.