BioSpherix
A84XOV
USER.d63c2cfe-98b5-47e7-8e2e-e9f9f3d5746d
Returns Accepted
Safe and secure payments. 100% Satisfaction Guaranteed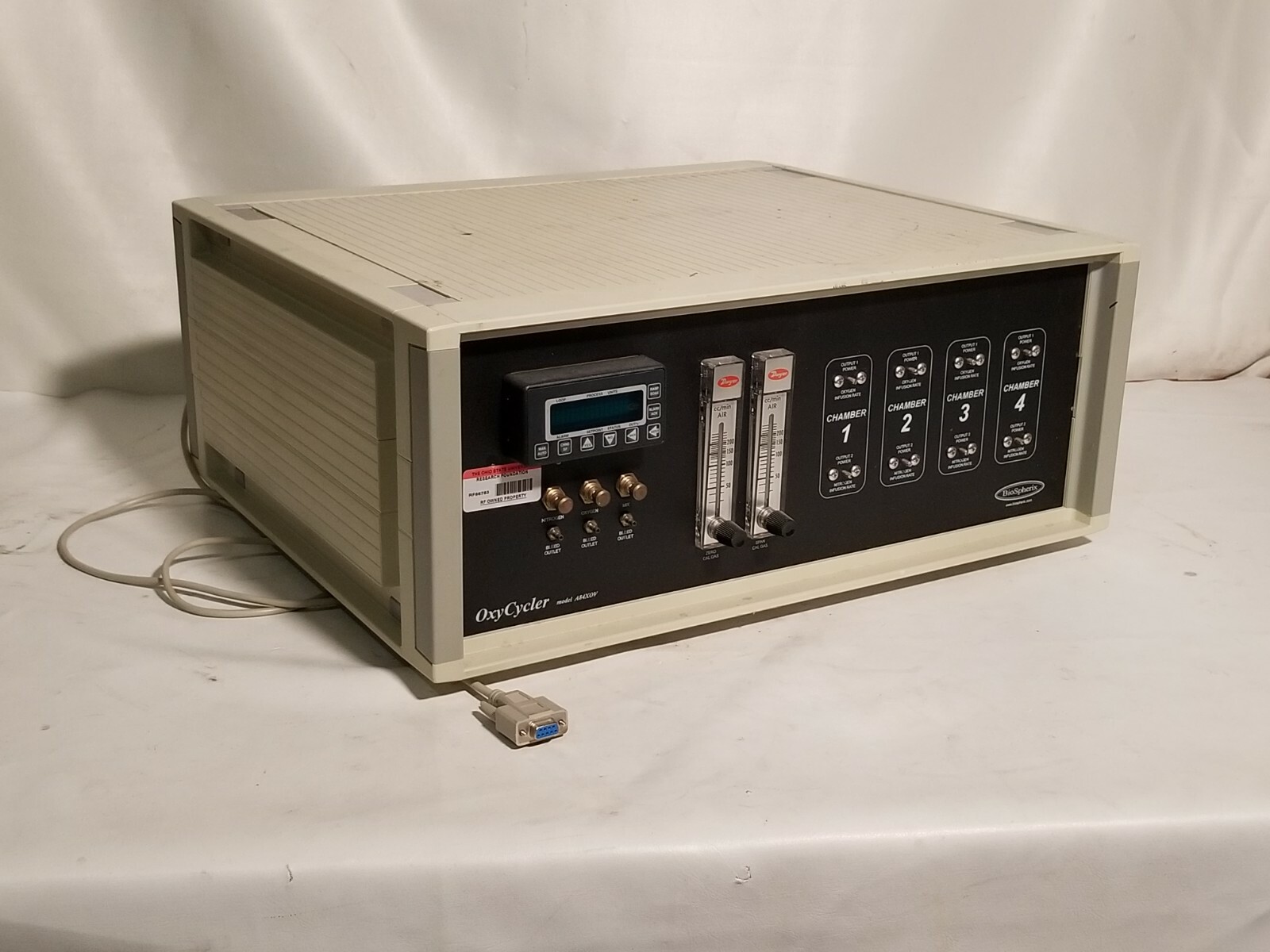 BioSpherix OxyCycler A84XOV dynamic O2 controller for animal modelling
About the Seller
czubin_industries
MPN : [A84XOV]
Brand : [BioSpherix]
Model : [A84XOV]
POWERFUL TOOL The OxyCycler A84XOV is a powerful research tool for scientists who do oxygen sensitive work. It makes complex oxygen profile control easy.
FULL RANGE DYNAMIC PROFILES Control oxygen profiles with multiple setpoints anywhere from 0.1-99.9% oxygen. Hold any setpoint for any length of time. Rate of change between any two setpoints is fully adjustable. Cycle any profile any fixed number of times, or continuously.
WORKS IN ANY CHAMBER The OxyCycler A84XOV works exceptionally well with BioSpherix A-Chambers. However, it can work with practically any semi-sealable enclosure. Large or small. Square or round. Flexible or rigid. Manufactured or custom made. Most chambers can be fitted in minutes.
MULTI-CHAMBER IS PRODUCTIVE Controls in four chambers at once. Operate all chambers simultaneously, or each independent of the others. Control different profiles, or same profile in every chamber. Start all at the same time, or each at different times.
CONTROL IS EFFICIENT Nitrogen is infused to lower oxygen. Oxygen is infused to raise it. Feedback from oxygen sensor inside chamber tells the OxyCycler A84XOV exactly when and exactly how much gas to infuse. No gas is ever wasted! Any disturbances are immediately detected and corrected.
OPERATION IS SIMPLE Once installed and configured, it's easy. Occasionally ch
eck calibration and supply gas, otherwise it's all automatic! Can work continuously year round, or on occasion as needed.
Specs
ELECTRICAL POWER: 12 VDC @ 6.66A
CONTROL RANGE: 0.1-99.9% oxygen
ACCURACY: ±1%
RESOLUTION: 0.1%
GAS SOURCE: Compressed gas tanks, liquid carboys (from headspace), or generators.
GAS SUPPLY: Pressurized O2 and N2
GAS SUPPLY LINE: 1/4 inch I.D. hose pressure rated at 40 PSIG.
GAS SUPPLY LINE PRESSURE: 0-40 PSIG
GAS INFUSION RATE: 1-150 S.C.F.H. each control gas each chamber.
GAS SUPPLY HOSE FITTINGS: 1/4 inch hose barb.
ACTUATOR POD SIZE: 7"H, 4.375"W, 4.5"D
ALARM OUTPUT: Visible flashing indicator. PC adds audible and more visible indicators.
ALARM MODES: Process high, process low, deviation high, deviation low, deviation band.
WEIGHT: 31 lbs. (Controller Only)
DIMENSIONS: 9"H x 21.2"W x 18.5"D