ClutchXperts STAGE 2 CLUTCH+FLYWHEEL Fits 2002-2009 TOYOTA CAMRY 2.4L DOHC 4CYL
Description
ClutchXperts Stage 2 Racing Clutch Setup is On and Off Type Clutch Setup Who Needs a More Grip Over a conventional stock clutch system as well. Yet this clutch setup is for those of you driving daily and occasional street racing use. This clutch Uses a Heavy Duty pressure plate with a full facing Organic Street Steel backing Racing Disc clutch setup has higher burst strength with more heat tolerance and handles more stresses. This clutch is engineered for both street use and perfect for daily driving with minor modifications with longer lasting over stock or Stage 2 clutch setup due to more strength from more clamping force on diaphragm, and more rivets. Stage 2 offers smooth gear shift and also clutch pedal as well.

It is specifically designed for Extended Wear and Additional Clamping Force for Enthusiasts Who Has Added an exhaust system, an Intake System and Minor External Bolt-ones. It features only slightly increased pedal pressure, longer life than stock, and normal clutch feel during engagement and disengagement for a very smooth operation. Our Stage 2 uses a heavy duty pressure plates use for daily and occasional Street ClutchXperts Exclusive Friction Composition.

ClutchXperts Stage 2 HD Organic Racing Clutches uses only use premium friction materials that are resistant to slippage and burst. Increased clamp loads give the necessary capacity to handle modified engines. This is the preferred clutch for street and light horsepower track use. Drivability is similar to the stock clutch. Pedal efforts will be slightly higher because of the higher clamp loads. All of our Stage 2 clutch discs have as spring center dampers to reduce drivetrain shock. Our Stage 2 Racing Clutch Kits Includes a heavy duty Stage 2 pressure plate, HD Organic Street Racing disc, throwout bearing, pilot bearing (If requires) and alignment tool. (Individual components available upon request)
12LBS FORGED CHROMOLY LIGHTWEIGHT RACING FLYWHEEL
For maximum acceleration there is no substitute for an ClutchXperts Lightweight Racing Flywheel (18LBS) . The decrease in rotating mass allows maximum engine revs to be reached very quickly, resulting in a startling decrease in acceleration time. In some racing organizations, aluminum flywheels have actually been outlawed because they give such a huge advantage.
RELIABLE AND SAFE!!

Our ClutchXperts FORGED CHROMOLY LIGHTWEIGHT RACING FLYWHEEL (12LBS) is an ideal performance modification because it has no disadvantages.
There are significant benefits of having a ClutchXperts Lightweight Racing Flywheel. Though it does not create additional horsepower, the flywheel does allow the engine to more rapidly transfer its power to the drive train. Due to its reduced mass, it allows an engine to have quicker throttle response and rev faster under acceleration. Conversely, under a drop throttle condition, the car will slow down quicker due to the less rotational mass at the crank. You lose nothing in reliability, safety, or drivability on the street. What you gain is neck-snapping acceleration from your car.Using a lightweight, ClutchXperts Lightweight Racing Flywheel is a race proven way to improve the performance of any street or race car. Lightweight flywheels have been used for many years by the world's most elight cars to improve both useable horsepower and extend engine life. Because a ClutchXperts Lightweight Racing Flywheel has so much less rotating inertia than the stock 20-30lb stock heavy flywheel., it is easier on your synchros. When you downshift and do not perfectly equalize revs, your synchros must accommodate the difference in flywheel speed and input transmission speed. The lighter the flywheel the less the inertia the synchros must overcome. The longer your synchros last the longer your tranny will last because you are less likely to miss-shift and break things when your synchros are properly functioning. Engine life is also increased by using a ClutchXperts lightweight flywheel. Since our flywheel is so much lighter there is much less stress on the main bearings.
This Racing Clutch and Lightweight racing flywheels (if purchased), which are designed and manufactured to increase capacity for higher output and to improve clutch response, may cause the transmission or bearings to make a rumbling noise which is not present when using the original OEM production parts. Such noise is particularly likely to occur when idling or when accelerating and decelerating at around 2000 rpm. Please be aware that this rumbling is not due to any defect in the parts. Do not use the our Clutch or Flywheel with a Big Operating Cylinder. This can result in blocking proper disengagemnt of the gears because of insufficient stroke volume.

If you see prices way less than others than competitors that means what you get is what you pay for- Made where country with low labor with low craftsmanship with poor materials.
COMPONENTS:
ClutchXperts STAGE 2 HEAVY DUTY LBS CLAMPING LOAD PRESSURE PLATE (1900LBS CLAMPING LOAD)
ClutchXperts STAGE 2 ORGANIC STREET CERAMIC RACING DISC
THRUST THROWOUT RELEASE BEARING
ALIGNMENT TOOL
12LBS FORGED ClutchXperts CHROMOLY LIGHTWEIGHT RACING FLYWHEEL
APPLICATION:
2002-2009 TOYOTA CAMRY 2.4L DOHC 4CYL
ITEM SPECIFICATIONS:
Brand : ClutchXperts
Manufacture Part Number : CXP-56036HP2-EXE-CAM24 CXP-56029CF-EXE-CAM24
Surface Finish : CAST IRON, CERAMIC, CHROMOLY

Torque : 264 ft-lb
Horse Power : 275 Hp
Warranty : Yes
Country of Manufacture : United States
**FILE PICTURES ARE FOR REFERENCE ONLY. ACTUAL ITEM MAY VARY
Image Gallery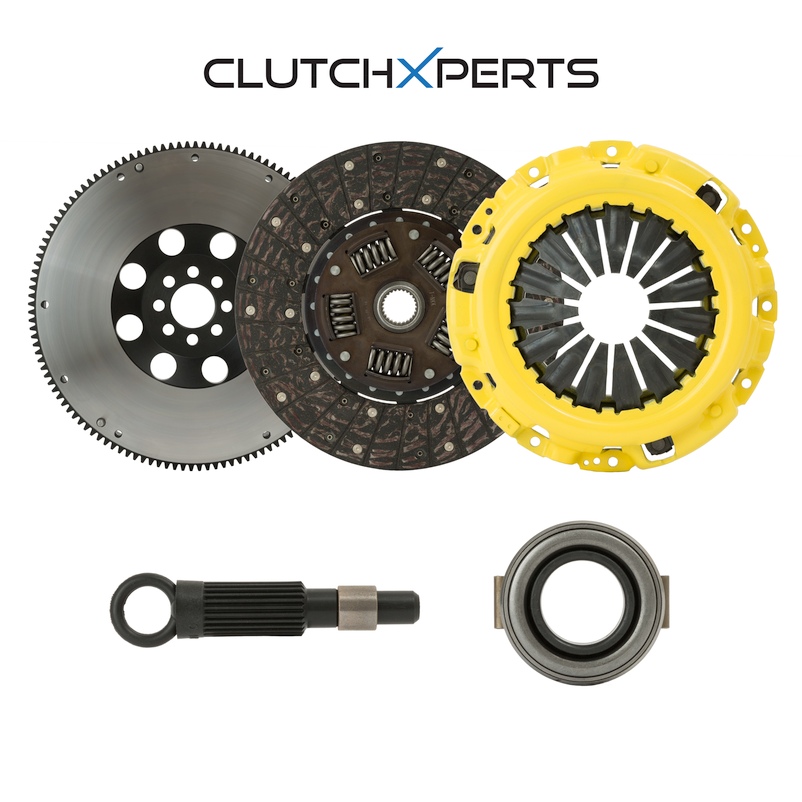 STOCK PHOTO
RMA # :

Message us through eBay for RMA#.


We do not allow any return without RMA#.
Return Shipping : Buyer is responsible for return shipping cost.
Exchange : Up to 30days from of purchase (Brand new condition, no restocking fee).
Return :

All returns will be subject to 20% restocking fee.
Return your purchase for up to 30 days from date of purchase for a refund.
Must be in brand new, resalable condition.

Damaged Item : Message us through eBay.
Manufacturer Warranty : 3 months or 3,000 miles(whichever comes first) from the date of purchase.

ClutchXperts, Inc.

We are located in Southern California

Please contact us through eBay messages by clicking on "Ask a Question".

Business Hours : 9AM - 5PM Mon-Fri (Pacific Standard Time).