ClutchXperts STAGE 4 CLUTCH KIT 9-2X IMPREZA LEGACY FORESTER OUTBACK 2.0L 2.5L
Description
ClutchXperts Stage 4 Miba* Racing Clutch Kit Is a brand new stage 4 Xtreme Duty Racing Pressure Plate With Stage 4. 6 Puck Miba Racing Disc Setup can hold and 70% more pressure increase over stock. ClutchXperts Stage 4 Miba* 6 Puck Miba* Racing Disc. A Miba* Composit Disc is a best material for friction material in the clutch market.
If you want the best the industry has to offer, ask for ClutchXperts 6 Puck Miba* Racing Disc. The ClutchXperts Racing 6 Puck Miba* Disc also uses our high torque internal assembly, but goes one step further in terms of friction. This disc uses an advanced Miba Delivering Aggressive Bite and increased thermal capacity. Uncharacteristic of the typical aggressive racing disc, The ClutchXperts Racing 6 Puck Miba Strip Disc provides outstanding stability, smooth engagement, and less wear on opposing plates. This combination has proven to be premier unit with regards to both performance and drivability for the daily driver with serious torque holding requirement. This system is recommended as the finest quality 'upgrade' from the original equipment clutch. This kit comes with everything you need for a new clutch job or clutch upgrade. Lastly, resurface and rebalance the flywheel prior to installation for best performance and result.
Street Or Long Life Of Clutch Break-In Required.
Features Of ClutchXperts Stage 4 Miba* Racing Clutch System
1. Heavy Duty Stage 4 Heavy duty racing pressure plate
2. Hi-Leverage Design
3. Precision heat treated single diaphragm
4. Re-Arched Diaphragm for Superior Engagement
5. High clamping force
6. NO unnecessary increase in pedal pressure
7. 6-Wings Ceramic Button Disc
8. More Grip Power, longer lasting
Why Miba?
High Temperature Resistance: Up To 930°F (500°C), Short Time Up To 1650°F (900°C)
Very Smooth Engagement
High Wear Resistance
High And Stable Level Of Friction Coefficient
Negligible Mating Material Wear.
Miba Generates 3 To 15% Lower Torque Peaks Compared To The Competition; Reduces Gear Shocks Loads And Same Material As Using Aircraft Brakes.
Miba Friction Group Has Been A Development Partner And Supplier Of High-Performance Friction Materials To The Automotive And Machine Industry For Over 30 Years. We Offer Optimized Components For Clutches, And Use High-Quality Materials And Innovative, Technologically Advanced, Processes To Ensure Excellent Wear-Resistance And Friction Coefficients.Clutch Segments Generate The Friction Needed For Torque Transfer From Engine To Transmission, Enabling The Vehicle To Start. They Are Characterized By Particularly High Temperature Resistance And Low Wear.Friction Materials Are An Important Performance Element In Vehicle And Machine Clutches, And Play A Key Role In Overall Efficiency.

If you see prices way less than others than competitors that means what you get is what you pay for. Made where country with low labor with low craftsmanship with poor materials.
COMPONENTS:
ClutchXperts PREMIUM STAGE 4 HEAVY DUTY CLUTCH PRESSURE PLATE COVER
ClutchXperts STAGE 4 MIBA 6 PUCK SOLID RIGID FRICTION DISC (225mm, 24 spline)
THROWOUT RELEASE BEARING
PILOT BEARING/BUSHING (IF APPLICABLE)
ALIGNMENT TOOL
APPLICATION:
2005 - 2006 Saab 9-2X Linear (2.5L 4cyl Non-Turbo)
2003 - 2006 Subaru Baja (2.5L 4cyl Non-Turbo)
2012 - 2012 Subaru Impreza (2.0L 4cyl Non-Turbo)
1998 - 2011 Subaru Impreza; Impreza Outback (2.5L 4cyl Non-Turbo)
1998 - 2012 Subaru Forester (2.5L 4cyl Non-Turbo)
1996 - 2012 Subaru Legacy; Legacy Outback (2.5L 4cyl; 3.0L 6cyl Non-Turbo)
2000 - 2012 Subaru Outback (2.5L 4cyl; 3.0L 6cyl Non-Turbo)
ITEM SPECIFICATIONS:
Brand : ClutchXperts
Manufacture Part Number : CXP-055012HP4
Surface Finish : CAST IRON, 6 PUCK COPPER CERAMIC MIBA
Torque : 378 ft-lb
Horse Power : 390 Hp
Warranty : YES
Country of Manufacture : USA
**FILE PICTURES ARE FOR REFERENCE ONLY. ACTUAL ITEM MAY VARY
Image Gallery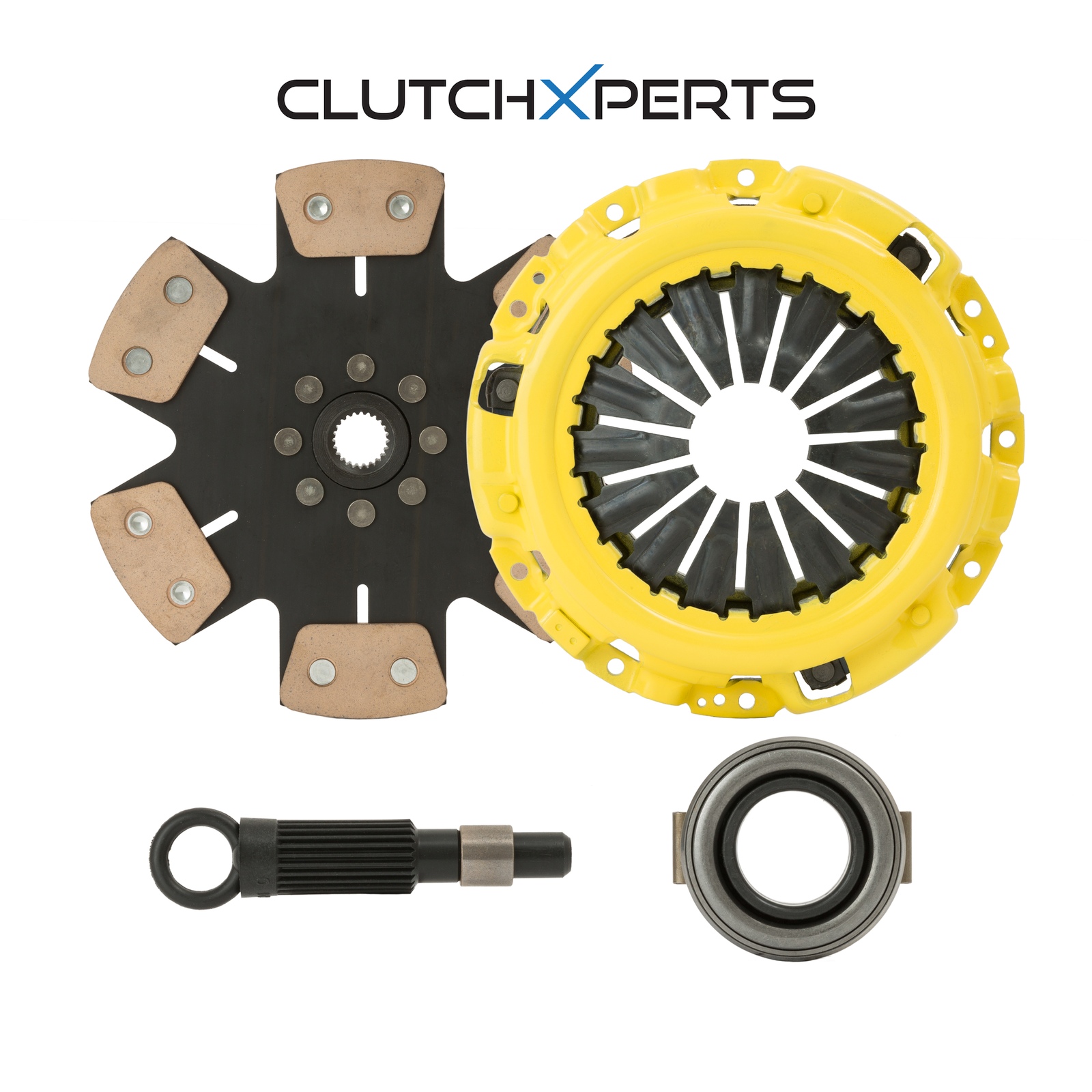 STOCK PHOTO
RMA # :

Message us through eBay for RMA#.


We do not allow any return without RMA#.
Return Shipping : Buyer is responsible for return shipping cost.
Exchange : Up to 30days from of purchase (Brand new condition, no restocking fee).
Return :

All returns will be subject to 20% restocking fee.
Return your purchase for up to 30 days from date of purchase for a refund.
Must be in brand new, resalable condition.

Damaged Item : Message us through eBay.
Manufacturer Warranty : 3 months or 3,000 miles(whichever comes first) from the date of purchase.

ClutchXperts, Inc.

We are located in Southern California

Please contact us through eBay messages by clicking on "Ask a Question".

Business Hours : 9AM - 5PM Mon-Fri (Pacific Standard Time).