Jellyfishaudio
Not Available
USER.700b8099-3976-4e3a-98a0-2c5a012ffe91
Returns Accepted
Safe and secure payments. 100% Satisfaction Guaranteed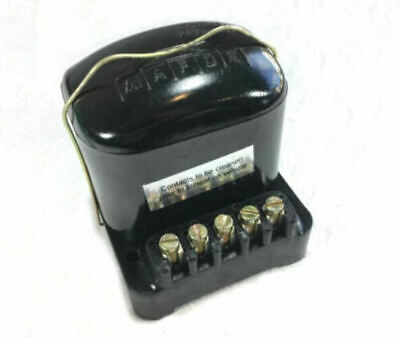 Electronic Assisted Dynamo -ve E 12V Regulator RB106 37066 130052 Screw Terminal
About this Item
Location:
Worthing, West Sussex
Returns:
Accepted
Condition:
Brand New
About the Seller
jellyfishaudio
Manufacturer Part Number : [Does Not Apply]
Type : [Voltage Regulator]
Brand : [Jellyfishaudio]
Classic Part : [Yes]
Would you like a dynamo based charger system that actually works?

This is a modified NEGATIVE EARTH ONLY version of the well known 12V RB106 positive earth regulator fitted to many classic British cars of the 1950's and 1960's. This type of regulator has within it two electromagnetic "relay" type coil and contact arrangements. One of these is designed to connect the dynamo to the car battery only when the voltage coming from the dynamo is somewhat greater than the battery voltage, thus preventing the battery from discharging back into the dynamo and possibly burning out the coil. This arrangement works very well (provided that you avoid accidentally closing the contacts when the engine is not running!) and has not been modified in this regulator.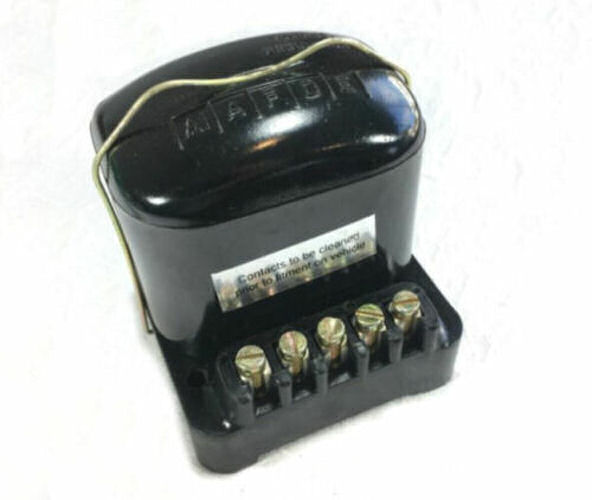 However, the other set of contacts regulates the field current into the dynamo, and hence regulates the charge output voltage from the dynamo into the car battery, and this contact opens and closes many times each second, which causes the contacts to arc, burn and pit, with the resultant charging unreliability and wildly oscillating ammeter needle often associated with dynamo charge circuits on classic cars and it is this circuit which has been modified to include a power transistor switch and a high voltage diode that effectively do almost all of the work the contacts used to do, reducing the current and voltage present at the contacts to a tiny fraction of a standard unit and virtually eliminating contact arcing and pitting. As the unit is fitted with spade terminals, it takes just a matter of minutes to exchange your old unreliable standard Lucas type regulator with this electronically assisted version.

As with all of these regulators, it is recommended that you clean the contacts with a fine glass paper or fine wet & dry (dry please!) before fitting. Then set up the charge voltage as you would with any RB106 regulator and sit back to enjoy many miles of trouble free motoring.... the rest of the car permitting of course!

Screw Terminals A1 A F D E (also available with spade terminals, see my other listing). Fixing holes 70mm approx spacing.

Lastly, please note that this regulator is set up and wired specifically and only for Negative Earth cars.... it will expire rapidly if connected to a positive earth car, so if you need a conversion for a positive earth car, see our other listings! This item will usually be dispatched within one week, built to order.

Please note that it takes me several hours to modify and assemble each of these regulators and at the buy it now price here it is just about covering the price of the regulator, the extra parts and my labour in modifying the unit, so I am not open to offers for it. Thank you.




Assembled using the FreeForm Builder at
This is NOT possible if you have already paid for any of the items you are ordering.
If this option is not offered in the listing, please use the following listing to pay the extra cost of this.
Also note that orders sent to Italy may take MUCH longer than eBays estimate to be delivered and, whilst some orders do arrive within a week or two, many orders sent to Italy are not delivered for three or perhaps even four weeks! This is entirely outside our control, as we ship within two working days and once your order is in the hands of Poste Italiane, there is nothing we can do to get it to you any faster.
Please DO NOT send messages with the title "Item not received" as these open complaint cases against us and damage our seller rating! Instead please use the general "Other" heading to ask about your delivery if several weeks have passed.
Lastly, all please note that when eBay asks you "Did the item arrive on or before" their estimated delivery date, it also damages our seller rating if you answer "No", so bear in mind that we always ship within two working days, so if you answer "No" because your local postal service (especially in Italy!) has taken weeks to deliver, you are punishing us, not them!
Thank you all for your kind consideration of the above and remember that we will always do our very best to sort out any problems or questions you may have related to your order if you contact us using the "Contact Seller" and (if the choice is given) "Other" ask a question of seller options.