Whatman
10416312
USER.a19fb14b-bf94-49f8-a443-222d1e87a54d
024140149184
Returns Accepted
Safe and secure payments. 100% Satisfaction Guaranteed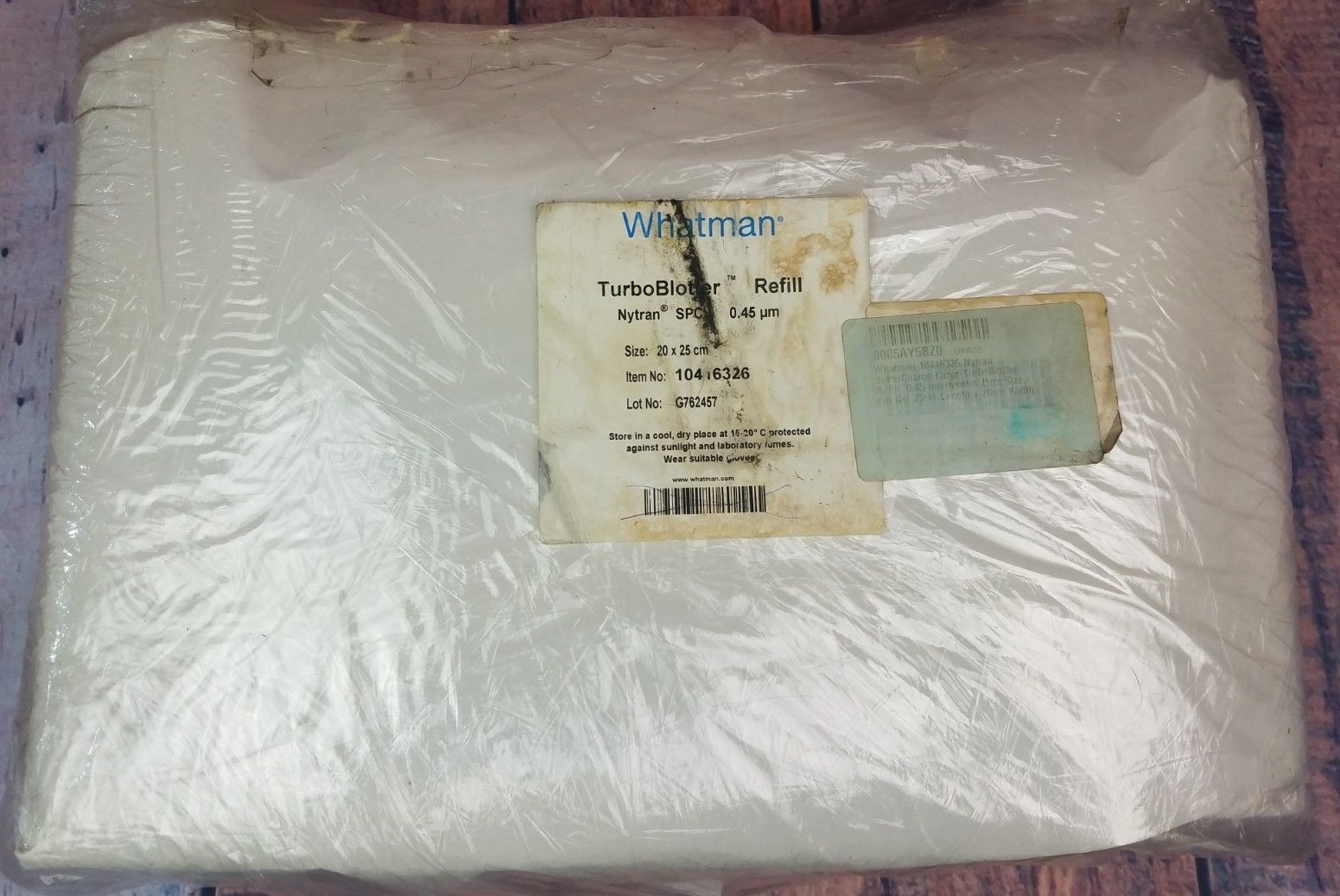 GE Whatman 10416326 Nytran TurboBlotter Large Kit Gel 0.45 Micron 20x25cm
About the Seller
Greg Jackson
MPN : [10416312]
Country/Region of Manufacture : [China]
Brand : [Whatman]
UPC : [024140149184]
Model : [10416312]
GE Whatman 10416326 Nytran SuPerCharge Large TurboBlotter Refill, 0.45 micrometer Pore Size, For Gel 25cm Length x 20cm Width
Rapid - downward capillary transfer allows for alkaline buffer transfers in one hour and neutral (SSC) transfers in three hours
Economical - reusable blotting device requires less buffer and blotting paper; convenient refill packs available
Compact - has a smaller footprint than most homemade devices and is stackable; up to five units can be stacked on top of each other during transfers
Easy to use - very easy to set up and works without power or vacuum source
Uses Whatman nytran SPC membrane and Whatman 3MM Chr and GB004 blotting papers for top performance
The TurboBlotter system is a rapid downward blotting device for high-resolution transfer of DNA and RNA. The conventional Northern/Southern transfer stack has been turned upside down in order to take advantage of gravity. No heavy weights are required on the top of the transfer stack, eliminating the messy set-up of standard upward capillary transfers. The TurboBlotter System offers greater speed, target resolution, and convenience versus traditional blotting procedures. Alkaline DNA transfers can be performed in as little as one hour, while neutral (SSC) transfers of DNA and RNA take only three hours. Nytran SPC, wicks and blotter stacks for five transfers from 20cmx 25cm gel size. Each transfer uses one sheet of Nytran SPC, one wick of 3MM Chr, and a blotter stack composed of eight sheets of 3MM Chr and twenty sheets of GB004. Each TurboBlotter Kit or TurboBlotter refill contains five sets of these materials, enough for five transfers.