Homemade My Way
Not Available
USER.a1f1ff35-ccdc-4be0-b7d3-c8a1a1e21d91
Safe and secure payments. 100% Satisfaction Guaranteed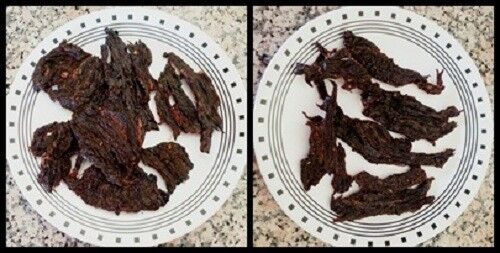 Ghost Pepper Beef Jerky 2oz. of Succulent and Fiery hot Jerky. Made in the U.S.A
About this Item
Location:
Los Angeles, California
Returns:
Not Accepted
Condition:
New
About the Seller
cl22sl
Product : [Deli & Preserved Meat & Poultry]
Food Aisle : [Pantry]
Type : [Beef]
Form : [Jerky]
Modified Item : [No]
Brand : [Homemade My Way]
Country of Manufacture : [United States]
Food Specifications : [GMO Free, No MSG]
Non-Domestic Product : [No]
California Blazing Chile Farm
EBAY's PUREST and HIGHEST QUALITY GHOST PEPPER BEEF JERKY!
Welcome to the finest source of chilies and spices. These are 100% USA grown products from California. We have been in this line of work since 1988 and look to providing you with the most superb of goods.
100% Organic Pure GHOST PEPPER aka Bhut Jolokia Fiery hot seasoned/marinaded Beef Jerky
This listing is for our line of Ghost Pepper Beef Jerky. The various flavors have been tested by our own taste buds. And we are honored to bring this to market. We only serve/supply products which we consume ourselves and are proud of. Rest assured your satisfaction is IMPORTANT to us. Thank you for looking and if we are blessed to have your patronage I humbly thank you again.
_____________________________________________________________________________________________________________________________
Flavors Available:
Ghost Pepper & Black Pepper Jerky:
This Jerky is savory, smokey and embodies the traditional sense of a fine black peppered jerky. The slow ample heat is met with a fine U.S.D.A. Prime beef round eye that is a match made in heaven.
Ghost Pepper BBQ Jerky:
One of my favorite flavors with its sweetness and heat will sure to win over those who love barbecued meats.
Ghost Pepper Teriyaki Jerky:
This is a sweet and soy sauce based Jerky that will not only warm your tummy but put a smile on the intricate flavors that is profoundly expressed here.
AK Oriental Ghost Pepper Jerky:
This is my personal favorite as my sweetheart designed this flavor profile. I assure you that this will win you over. The delicate balance of sweetness, saltiness, aromatics and dare I say umami is incredible.
Ghost Pepper Sriracha Jerky:
One of our most popular products combined with Jerky is the most logical of creations.
Strawberry Preserve Ghost Pepper Jerky:
Strawberries and Beef...who knew it would synergize so well.
_____________________________________________________________________________________________________________________________
Our methods of farming and nurturing these plants allows for the slow maturation of these divine potent peppers. Please don't be fooled by those who mix or dilute their products. We guarantee buyers that we hold rigorous guidelines of manufacturing and packaging to assure purity of our products. We package and mill our peppers upon order in efforts to maintain the freshest and most exemplary of products. The powder can be added to virtually any dish ranging from soups, chili's, dry rubs or anything your imagination can conjure up. The intense heat is delicious as well as invigorating. Consumption of chili have long been associated with the promotion of metabolic activity.
WARNING
Please take full caution when handling our products. The pepper is dangerous and will cause irritations. I advise trying smaller increments to register your tolerance level, however you can create amazing challenges. Challenges comparable to that of any SPICE competitions...Have fun but be careful.
Package Availability:
We offer heat sealed packages that ensures longevity of the product. They are available in 2 ounces, 4 ounces, 8 ounces, 1 pound and higher increments.
Shipping:
We aim to minimize cost to our customers so please understand that we do not benefit from shipping cost. The smaller packages we ship out for free, however the larger the packages are charged accordingly. We must also mention we do not ship out of the U.S.A. unless you the international buyer are willing to pay a small additional charge.
Please Contact us for any questions and inquiries. And know you are supporting a 100% owned and operated business in America. Bless you and thanks for looking.