California Blazing Chile Farms - Blazing Dragon
Not Available
USER.85ef8f2b-2bac-45eb-8b69-95aa89a74827
Safe and secure payments. 100% Satisfaction Guaranteed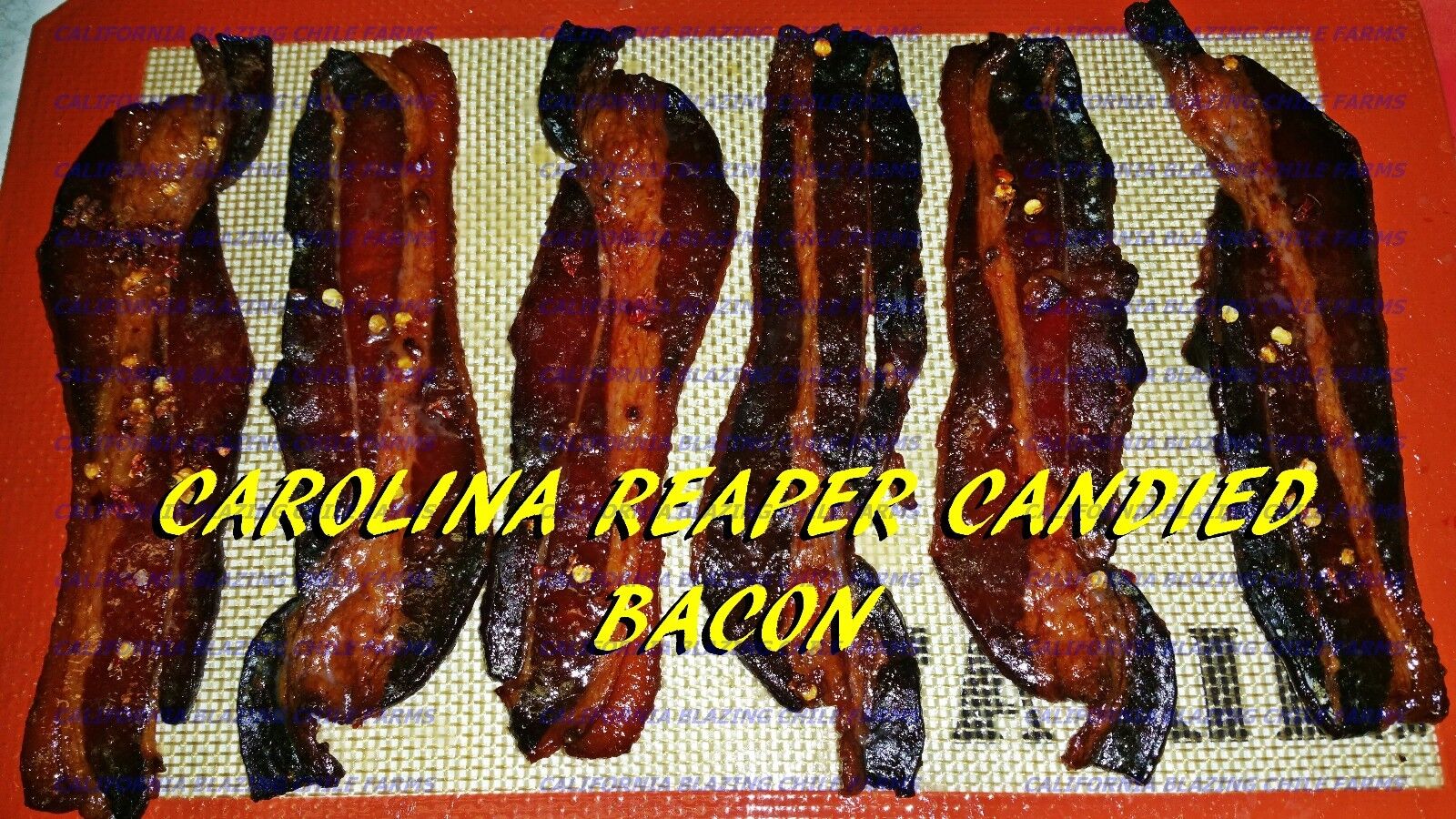 Organic Carolina Reaper Candied Bacon Sweet, salty and HELLHOT! HIGHLY ADDICTIVE
About this Item
Location:
Los Angeles, California
Returns:
Not Accepted
Condition:
New
About the Seller
cl22sl
Product : [Deli & Preserved Meat & Poultry]
Food Aisle : [Pantry]
Country/Region of Manufacture : [United States]
Brand : [California Blazing Chile Farms - Blazing Dragon]
Food Specifications : [Deliciouso!!!]
California Blazing Chile Farm-Blazing Dragon Candied Bacon
Carolina Reaper Candied Bacon

EBAY's PUREST and HIGHEST QUALITY GOURMET AND SPICE SHOP GUARANTEED!

This listing is for Carolina Reaper Candied Bacon and you can choose from 1 piece/ 6 pieces/ 12 pieces/ 24 Pieces or more. There will be other pepper flavors soon but why not try the HOTTEST and most invigorating candied Bacon in the World. We pride ourselves in making the finest and most delectable spicy gourmet foods. We ONLY do small batch orders to maintain freshness, control and consistency. We value each and every order that we get and aim to earning repeat orders.

This is NOW my personal favorite because I enjoy the flavors of the painfully delectable CAROLINA REAPER pepper. I compare the sensation to that of trying to consume a smoldering briquette of charcoal. I promise you that you will experience sauna like conditions internally and the molten burn is excruciatingly painful. If you desire the CHAMPION of peppers look no further for this delectable BLAZING DRAGON CAROLINA REAPER CANDIED BACON!!!




REASONS YOU WILL LOVE THIS CANDY/PRODUCT
ORGANICALLY GROWN AND HARVESTED PEPPERS
SMALL BATCHES MADE TO ASSURE FRESHNESS
INGREDIENTS ANYONE CAN PRONOUNCE...TO SIMPLY PUT IT. I ONLY USE WHAT I FEED MYSELF/FAMILY.
SERIOUSLY FIERY FOODS MADE WITH LOVE.
---
The method to perfection is the attention to detail we take. We use the finest Center Cut Bacon to start. The cured bacon must pass our standards before we even attempt to serve it. As we cook the bacon to mouth watering crispiness we fuse our medley of Maple syrup and ingredients that harmoniously creates this sweet, salty and spicy treat. One bite into this Candied Bacon and you will understand the devotion we have to our products. Chocolate covered bacon is next to come and a few other flavors. Don't hesitate to contact me with any questions. Thank you and God bless.


Our methods of farming and nurturing these plants allows for the slow maturation of these divine potent peppers. Please don't be fooled by those who mix or dilute their products. We guarantee buyers that we hold rigorous guidelines of manufacturing and packaging to assure purity of our products. We package and mill our peppers upon order in efforts to maintain the freshest and most exemplary of products. The powder can be added to virtually any dish ranging from soups, chili's, dry rubs or anything your imagination can conjure up. The intense heat is delicious as well as invigorating. Consumption of chili have long been associated with the promotion of metabolic activity.
The images provided illustrates our delicate farm which is known to be nurtured and cared for by the finest of staff. We sun dry our peppers to assure the highest of quality and freshness. We micro produce our goods to maintain and assure freshness.
WARNING
Please take full caution when handling our products. The pepper is dangerous and will cause irritations. I advise trying smaller increments to register your tolerance level, however you can create amazing challenges. Challenges comparable to that of any SPICE competitions...Have fun but be careful.


Shipping:
We aim to minimize cost to our customers so please understand that we do not benefit from shipping cost. The smaller packages we ship out for free, however the larger the packages are charged accordingly. Please note that anyone who desires to purchase from out of the U.S.A. if you are willing to pay for shipping we can provide you the quality products.
Please Contact us for any questions and inquiries. And know you are supporting a 100% owned and operated business in America. Bless you and thanks for looking. And if you could support us by liking us on Facebook we would sincerely appreciate your support.