BioFM
AC13
USER.8b05c594-83ca-481b-a406-5cf654e56a37
Safe and secure payments. 100% Satisfaction Guaranteed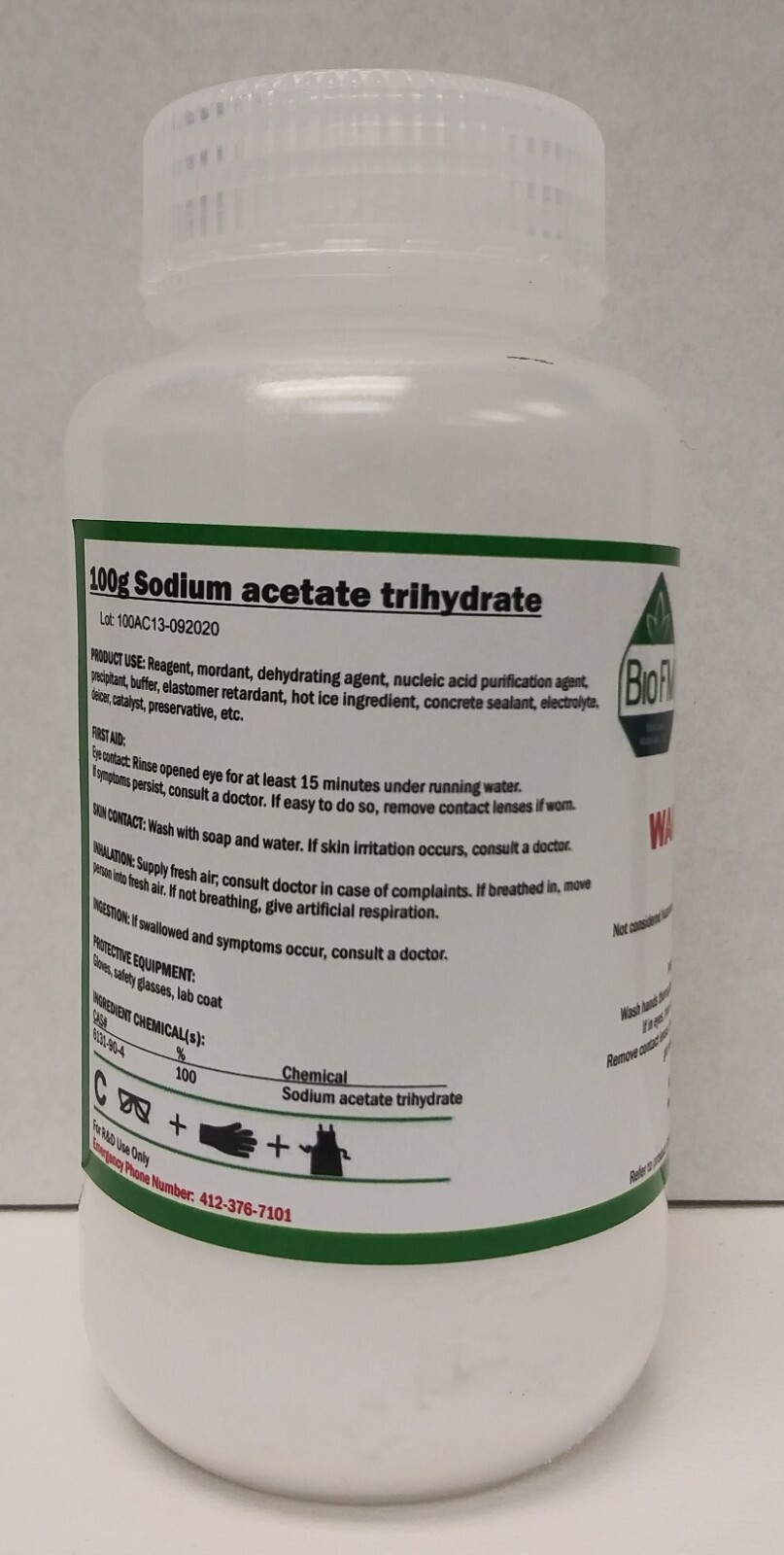 Sodium acetate trihydrate
About this Item
Location:
Pittsburgh, Pennsylvania
Returns:
Not Accepted
Condition:
New
About the Seller
furanchem - chemical manufacturer
MPN : [AC13]
Preferred IUPAC Name : [Sodium acetate]
Common Name : [Acetic acid sodium salt]
Brand : [BioFM]
White, hygroscopic, granular powder
•

Molecular formula : C2H9NaO5
•

Molecular mass : 136.08g/mol
Sodium acetate trihydrate (NaCH3COO·3H2O) is a promising Phase Change Material (PCM) used to fabricate reusable heating pads and hand warmers because of its relative high heat of fusion. Its alkalinity (pH 8.5-9.5), as well as its low price, makes sodium acetate trihydrate the material for choice several applications including,
1.

Bait for nematodes in pest control
2.

Antibacterial, antifungal additive
4.

Electroplating bath reagent
5.

Retardant in elastomer industry
7.

Synthetic reagent / intermediate in dyes, pigments, pharmaceuticals, cinnamic acid, etc.
9.

Biodegradable deicer substituting corrosive rock salt
10.

Pickling agent in the chrome tanning
13.

Biomolecule precipitant
16.

Safe neutralization agent of mineral acid discharges, etc.