StreetWise
SWLC21WCQ
USER.91d9252e-71cf-4f0f-a98f-9e9aeab8cc8e
793831020155
Returns Accepted
Safe and secure payments. 100% Satisfaction Guaranteed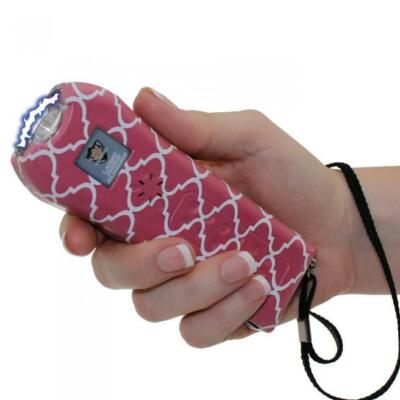 StreetWise Ladies' Choice 21,000,000 Stun Gun With Holster LED Light Pink White
About this Item
Location:
Winterville, North Carolina
Returns:
Accepted
Condition:
New
About the Seller
ampco20
MPN : [SWLC21WCQ]
Brand : [StreetWise]
UPC : [793831020155]
Ladies' Choice 21,000,000* Stun Gun
FEATURES
PINK & White

Bright Flashlight
Loud Alarm
Disable Pin with Lanyard
Built-In Charger
Holster Included
Lifetime Warranty
Streetwise Stun Guns. For well over 25 years, Streetwise Security Products has been the world's leading brand of self defense and security products for women. This revolutionary new product, designed exclusively for women, is likely to make the old, standard models obsolete. Designed for women: When it comes to personal protection, one size does not fit all. The Ladies' Choice is made with a narrow width and smaller finger indentions to fit comfortably in a woman's hand. The length was also increased to give you an extended reach and keep the electricity at a safe distance away from your hand. Squeeze and Stun technology: When it comes to protecting yourself, saving seconds can save your life! This new technology saves you valuable time by not having to fumble around for the right button to push and your tight grip around the unit prevents it from being knocked out of your hand. Loud Alarm: Self-defense experts say that a loud alarm is one of the best deterrents to attack. In the past a personal alarm needed to be purchased and carried separately........now this feature is built in to this device. At the first sign of danger the alarm can be activated to summon help and scare off a potential attacker. Triple Defense System: Protecting yourself is as easy as 1-2-3! Criminals love to lurk in the dark; when you illuminate the area with the bright flashlight (1), they will often scatter. If the threat still exists, you can sound the 120 dB alarm (2) to summon help and scare off your attacker. This Streetwise Ladies' Choice 21,000,000 Stun Gun SWLC21PK is a great item at a great price under $30 you can't miss.
For additional protection, if the pin is inserted and the safety is turned off an alarms sounds.
A lanyard worn around your wrist attaches to a disable pin on the bottom of the unit.
There are no cords to keep up with;
simply plug into a standard wall outlet.
Complete charging instructions are included.
Holster Included: A stylish, durable holster with belt loop is included for easy carrying.
Lifetime Warranty: The Ladies? Choice 21,000,000 is made by Streetwise Security Products-the leader in the personal protection industry and comes with a lifetime warranty.
See the enclosed instruction manual for complete details.
Streetwise Stun Guns
Stun Gun Laws
The following list reflects the best information we have at this time and may or may not be complete. In no way should this be regarded as the final word on the legal status of stun devices nor is this list intended to take the place of legal counsel or be looked at as being any form of legal advice. Please check with your local authorities to obtain the latest information on the legality of stun devices in your area. As a reminder, it is the responsibility of the end-user of any of our products to check their local and state laws to determine the legality of that product.
CAN NOT SELL / SHIP TO THESE LOCATIONS- YOUR PAYMENT WILL BE REFUNDED- IT'S THE LAW!
STATES THAT STUN DEVICES ARE RESTRICTED:
HAWAII
ILLINOIS
MASSACHUSETTS
MICHIGAN
RHODE ISLAND
WISCONSIN
CITIES WHERE STUN DEVICES ARE RESTRICTED:
ANNAPOLIS, MD
DENSION / CRAWFORD COUNTY, IA
DISTRICT OF COLUMBIA
PHILADELPHIA